News
22 Jan 2016
The Monrovia City Council invites the community and friends to the dedication of Station Square Park, located at 1601 S. Myrtle Ave. The event is scheduled for Saturday, Jan. 23 and will begin at 11 a.m. with the park dedication ceremony.
The event will continue until 2 p.m. with festivities including live entertainment, arts and crafts for children, a Canyon Park critter display, and much more for the entire family! L.A. Metro will be distributing important information regarding train safety and other Gold Line materials.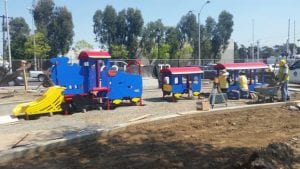 Station Square is the largest Public Works project in the city's history. It is a community-driven project that fulfills a long and involved planning process to deliver a unique vision. California
Waters is currently completing a water feature that will become part of the park's attractions.
Be a part of this momentous occasion and celebrate Monrovia's newest park! ‪#‎cityofmonrovia‬ ‪#‎waterfeatures‬