News
21 Jul 2016
Two recent California Waters projects are featured in the July issue of Landscape Architect and Specifier News.
The first, Eagle Soar Splash Pad in Temecula, California provides an inclusive and inviting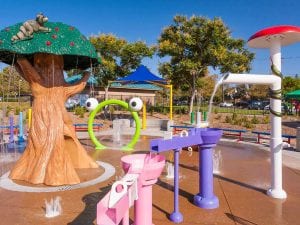 area where children of all abilities can play and explore together. Combining a zero-depth splash pad with fun elements and interactive stations with kinesthetic play prompts, Eagle Soar Splash Pad's unique design meets the physical, cognitive and sensory needs of many different types of children – including those with autism, sensory and cognitive issues as well as physical, and learning disabilities. It is not only accessible, but inclusive for all the children of Temecula.
Christ Cathedral's Tower of Hope in Garden Grove, California
includes a complete redesign and renovation of the stunning fountains and reflecting pools encircling the "Peace Be Still" statue bringing the water feature back into service and into the 21st century while maintaining the architectural significance of its rich history. The renovation process addressed: water treatment and filtration issues, leaks and patchwork repairs made over the last 45 years. This project was the third water feature renovation done by California Waters at Christ Cathedral.
Download the PDF articles here:
Check out the articles online here: