Originally built in the 1960's, the historic Tower of Hope, set off by the awe-inspiring sculpture of Jesus walking on water and enhanced by multiple jet fountains flanking the Tower itself,  is a striking landmark in the community.
The project included the complete re-design and renovation of the water feature, built in the 1960's, as well as renovation and repairs to the tranquil bodies of water encircling the statue.  A highlight of the renovation is the production of a memorable shadow effect on the Tower itself as day turns to dusk.
California Waters challenge was to bring the Tower of Hope fountain both back into service and into the 21st century without disturbing the architectural significance of its rich history all with minimal disruption to ongoing church needs and services.  This project was the third renovation project handled by California Waters  at Christ Cathedral, the other two being the Arboretum and Memorial Fountain renovations. The three projects are perfect examples of our signature 360° approach covering the complete lifecycle of a project as in addition to renovating all the water features we also continue to maintain them.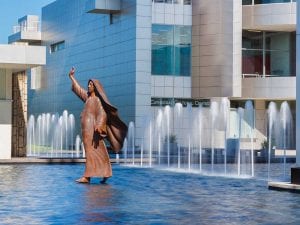 If you would like to work with our team of skilled professionals, please contact us: